Find the right size self storage unit for you.
Choosing the right storage unit size is important and will save you time, hassle, and money. Here are four steps to help you make the right choice!
Create a list of items you plan to store (including furniture and appliances).
Estimate how many boxes you plan to store in your unit.
Keep track of the measurements of your largest items.
Lastly, compare your list, the number of boxes, and measurements against our visual storage size guide to confirm your best storage unit size.
Use uniformed size boxes.
If possible, try to use uniformly sized boxes for easy stacking. Stack heavier boxes on the bottom and lighter boxes on top. Clear plastic tote bins provide visibility into frequently accessed items.
Keep your stored items dry.
Place your storage items on 2×4 boards or on pallets to guard against dampness. This will also create proper airflow in your unit.
Allow for easy access to your unit contents.
Place items that you may need to access often in the front of the unit. Leave an aisle down the center of the storage unit for easier access. Leave a small space between the walls and boxes to allow for air circulation.
What is the best way to pack a unit?
Large or infrequently used items should go in the back of the unit. Remember to keep a walkway in your unit's center to easily access items. Always keep boxes labeled and a list of items stored, even a photo on the outside of each box will allow you to "see" what's inside. Check out our storage tips page for more packing and organizing tips.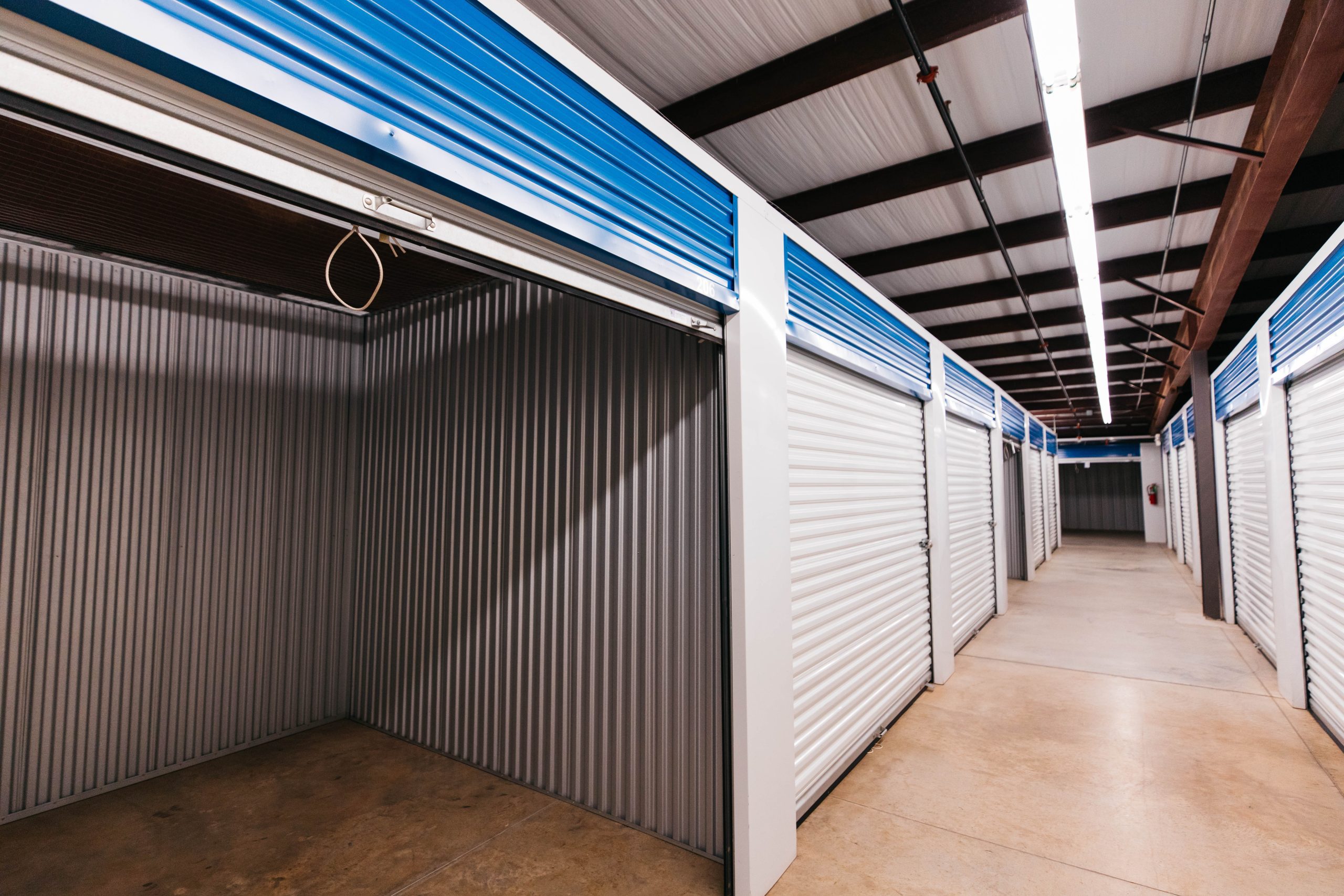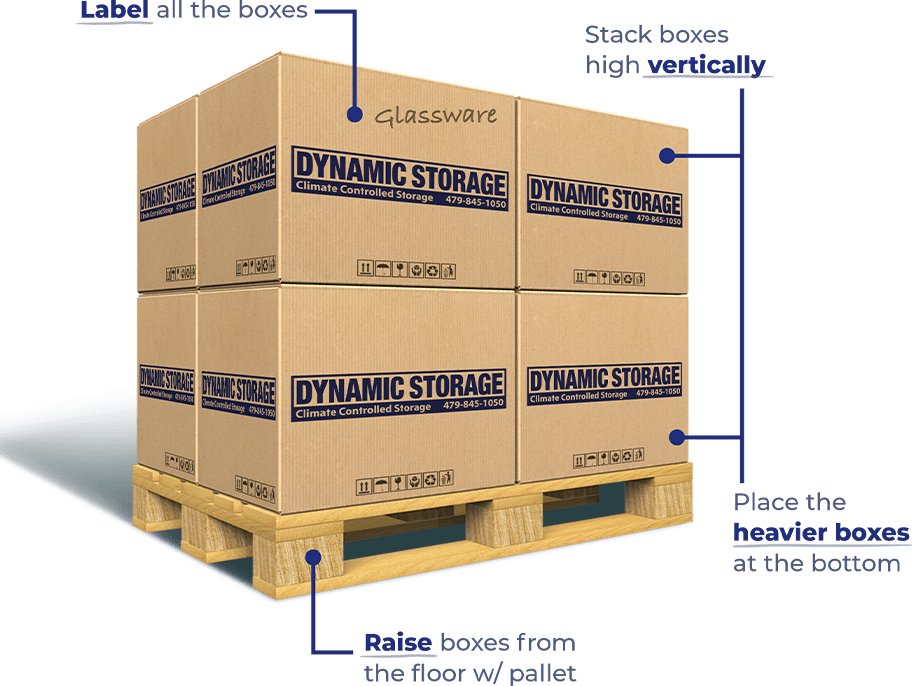 Packing and Storing Boxes
How to label your moving boxes:
List the room and contents on two or more sides of the box. Snap a photo of the items as you are packing and tape it to the outside of the box. Create a list of labeled boxes for easy reference. Color coordinating or numbering each box is a great trick to staying organized. 
Pack your boxes correctly.
Fill boxes tightly, half full boxes tend to collapse under weight. Fill voids with stuffed animals, clothing, towels, or blankets. Use empty furniture drawers for fragile items like pictures, knick-knacks, china, etc. Wrap them in bubble wrap, newspaper, or tablecloths to prevent breakage.
Don't make boxes too heavy to move.
Limit the weight of your boxes, regardless of box size, to 30 lbs. or less. Use large boxes for lightweight items and small boxes for heavy stuff. Avoid storing items in plastic bags as they are less sturdy and could trap moisture. Garage items like shovels, rakes, and hoses store nicely in empty trash cans.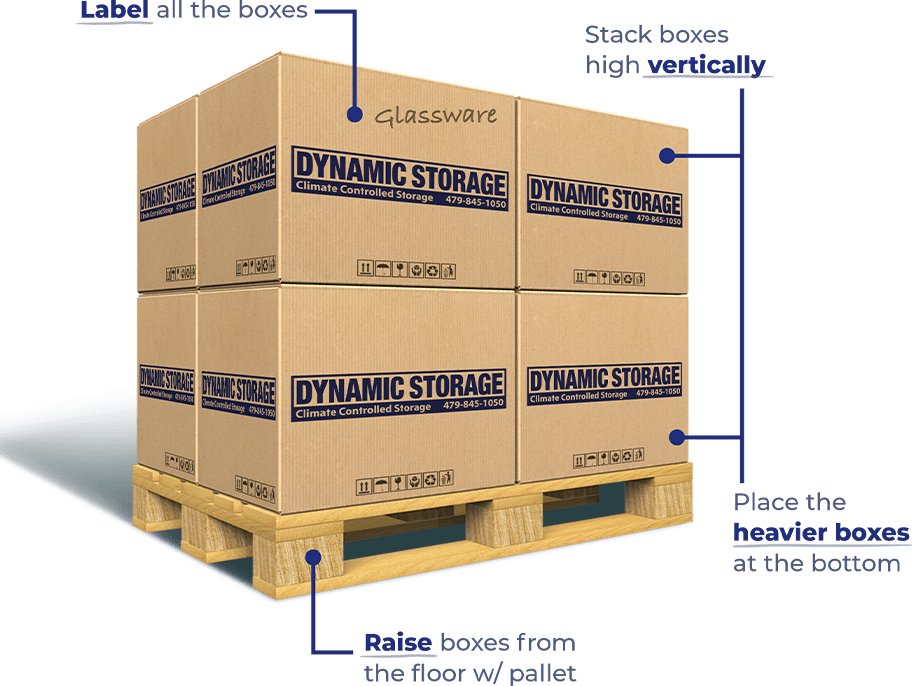 Storing Bulky Household Items
Gain storage space by disassembling furniture.
Break down beds and tables and place any extra parts in a baggie taped to the item they belong. If a table will not disassemble, place padding on the floor, flip the table on its top with the legs pointing up, and pack on top of it. Use dresser tops for stacking boxes. Stand sofas and mattresses on end. Be sure to store heavy, bulky household appliances towards the rear of your unit.
Properly prepare your appliances for storage.
Clean and disinfect refrigerators, freezers, stoves, and cooking equipment. Dry, and store with doors slightly open to prevent mildew and unwanted pests. Remember large appliances make excellent packing space. Laundry machines are ideal for packing pillows, blankets, towels, and clothes.
Keep upholstery off the floor.
Place a pallet, cardboard, or plastic sheet on the floor before placing furniture on concrete. Ideally, any fabric stored in a non-climate-controlled unit should be wrapped in plastic to prevent moisture damage. Cover upholstery with sheets or a tarp to prevent excess dust.
Protect your belongings from the elements.
Add a barrier of wood polish to tables, condition leather furniture, and wipe bikes, file cabinets, and shovels with machine oil to prevent rust. Wash clothing, drapes, and fabrics before packing.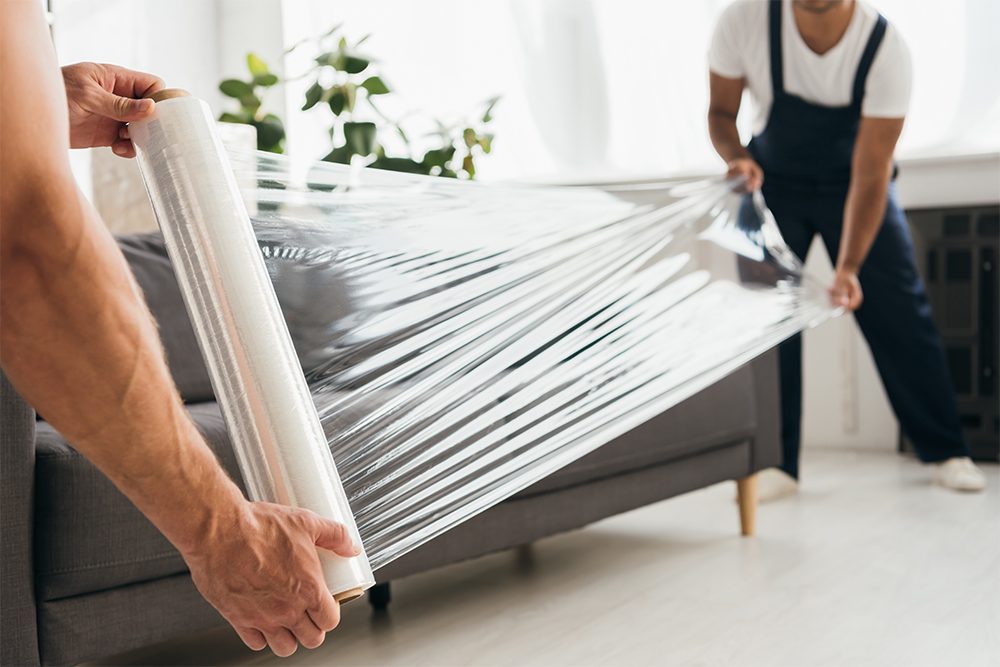 Remove batteries
from any device that you are putting into storage including remote controls, kids' toys, clocks, toothbrushes, etc.
Pack books
By placing them in a box standing upright like you would place them on a shelf to prevent spine breakage.
Use criss-cross masking tape
across the face of mirrors and glass. Store them vertically to prevent breakage.